2018 Indoor Track Developmental Series — Sat, Feb 10 & Sat, Mar 24
Registration Deadline (Meet #3) - 8:30 pm, Wednesday, Dec 31

X
Important Reminder to ALL ATHLETES & COACHES:
Only performances from NLAA INDIVIDUALLY REGISTERED track and field members of the current year will be accepted for rankings, team selection or provincial/national records. There will be no retroactive acceptance of performances.
Canadian Anti-Doping Program (CADP):
Athletics Canada has adopted the CADP and all participants at NLAA Events should be aware that they are subject to Canada's anti-doping rules.
Competition Venue
The NLAA Invitational Indoor Track and Field Meet is to be held at the Memorial University Field House in St. John's. The facility has a six (6) lane 200m oval and eight (8) lane sprint straight track. Change room facilities and showers are available - bring own lock and towel.
Spectator/Viewing Area
All spectators, coaches and non-competing athletes should use the second floor of the field house to view the competition.
Competition Categories
The competition is open to male and female participants in the following categories:
Midget (born in 2003 - 2009)
Youth (born in 2002 - 2001)
Junior (born in 2000 - 1999)
Open (born in 1998 & earlier)
Events
Meet #1, 6:00 pm, Sat, Feb 10, 2018

All Categories: 60m, 200m, 300m/400m, 600m, 1200m/1500m
Meet #2, 6:00 pm, Sat, Mar 24, 2018

All Categories: 60m, 200m, 300m/400m, 800m, 2000m/3000m
Notes:

Each competitor is individually responsible for promptly and on time reporting for each event entered.
Athletes should be ready to compete shortly after they are called to the start. Practice time before each start will be kept to a minimum, 1-2 minutes.

New!

There is no limit to the number of events a competitor may enter.
There is no limit to the number of entries per school or club.
The 60m, 200m, 300m/400m, 600m, 800m, 1200m/1500m, 2000m/3000m events are open to all age categories. Athletes are asked to make a choice as these events may be run simultaneously or back-to-back with no rest time in between.
All events will be run as Timed Section Finals (TSF).
In all events, Midget age athletes will compete first followed by the next age category. To avoid empty lanes, however, race organizers reserve the right to combine some events.
Combined races - Where we have to run two or more age categories together, the events will be ranked separately. For example, in the 60m, we may have one participant in each division. In such case, there will be one race, instead of two or more races, and participants from all divisions will run together. Please note that NLAA and Athletics Canada rules do not allow mixed gender (female and male) races.
Competition Rules
The competition will be conducted as per the IAAF Handbook and variations as per Athletics Canada and NLAA rules.
Timing - FinishLynx Photo Finish System and Hy-Tek Meet Manager will be in use for the meet.
Starting Commands for sprinting events (400m and shorter): "On your marks", "Set", the gun will be fired
Starting Commands for 600m/800m/1200m/2000m/3000m events: "On your marks", the gun will be fired. Standing Start!
Running in lanes for sprinting events (300m and shorter): all runners must remain in their assigned lanes for the duration of the race from start to finish. In the 50m/60m/200m/300m, each athlete will have a separate lane at the start. The races will be run entirely in lanes.
In the 400m and 600m events a two (2) turn stagger start will be used with one (1) competitor per lane at the start, runners must stay in their assigned lanes during the first 2 turns, after they cross the "breakline" runners can cut into Lane 1.
False Start: Athlete(s) responsible for the false start will be disqualified (no false start)

Start Rule modified for Elementary Schools: For athletes competing in the Elementary School competition only, one false start will be allowed per race without disqualification of an athlete. Any further false starts shall result in disqualification of the athlete making the false start.

A crouch start and the use of starting blocks is mandatory for 60m, 200m, 300m/400m events.

The usage of Starting Blocks in the Elementary level competition is not allowed.

Starting position for the Elementary level competition is optional in the 60m and 200m - Crouch Start, Standing or 3-point start.
Middle-distance events: 800m/1200m/2000m/3000m - all starts will be made from a standing position
Middle-distance running in lanes: runners begin from a common start line and may cut to the inside lane after the first turn or crossing the breakline.
Applies to athletes competing in the designated Masters Category:

Masters competitors are not required to use starting blocks, or a crouch start or have both hands in contact with the track for the start of any race.
False Start: Individual athletes who are charged with a false start will be warned. Athletes who are charged with their second false start in the same race will be disqualified.

Each competitor is individually responsible for promptly and on time reporting for each event entered.

Track Footwear and Pins
No outside footwear is allowed on the track. All participants must wear indoor sneakers or gym shoes. Any shoes designed for turf sports are not allowed. Participants may not compete in their bare feet, slippers or socks.
Only athletes approved by the NLAA Office may wear track spikes (3mm).
STRICTLY ENFORCED: Athletes wearing spikes with spike length longer than 3mm will be asked to remove their spikes and run wearing their indoor sneakers.

Athletes wearing spikes without permission will be disqualified and barred from further competition in the meet.

ABSOLUTELY no spikes are to be permitted on the green synthetic surface as it will damage the floor. This regulation will be strictly enforced by field house staff and NLAA volunteers/officials.


ONLY 3mm

spiked shoes will be permitted for competition, 6mm or 9mm spikes are not permitted. Any athlete who does not follow this policy will immediately lose access to the Competition.

Athletes using approved spiked shoes must stay on the track surface at all times.

Awards
Individual scores will be kept but no awards will be presented. There is no limit to the number of athletes a school/club can enter in an event.
Race Number & Pick-up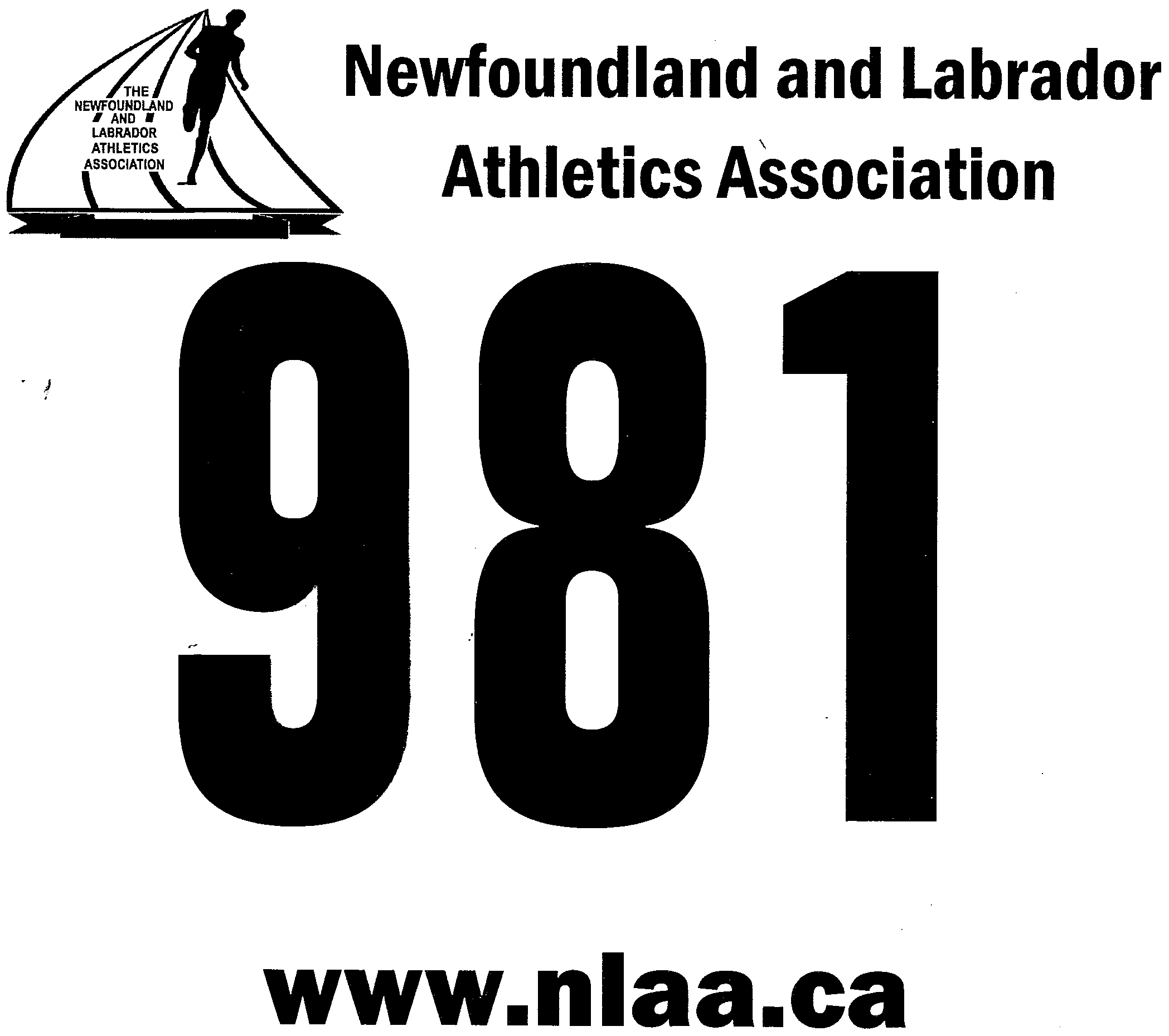 A bib number will be given to each participant, which is to be worn visibly on the chest. Race numbers will be available for pick up at the MUN Field House on Saturday (meet day) from 6:00 pm to 6:30 pm. A volunteer will be on-site at the field house lobby near the main desk.
Technical Meeting
There will be no Technical Meeting.
Athlete Control Center (Marshaling area)
The lobby/sitting area of the Field House is designated as the Athlete Control Center. Only athletes reporting for their event are allowed in this area.
Warm-Up Area
Please use the area on the second floor of the field house for warm-up.
Competition Area
Once all athletes have been marshaled in for competition they should not leave the designated competition area without the permission of a Meet Judge.
Announcer
The Meet Announcer will inform the public of the names and numbers of the athletes taking part in each event, and all relevant information such as the composition of the heats, lanes or stations drawn, and intermediate times. Event results (placing, times, heights and distances) of each event will be announced at the earliest possible moment after receipt of the information.
Check-in and Call up procedures
The Athlete Control Center will open forty-five (45) minutes prior to the first event and will organize the timely call up of all competitors. All athletes must report to the Athlete Control Center following the call of their event. There will be only one and Final call made prior to each event:
Track Events - 40 minutes
Ten (10) minutes after the final call all competitors will be escorted by a designated official to their competition area. Athletes arriving late, after all competitors are escorted to the competition area, will not be allowed to participate in the event and will be barred from further participation in the meet.
Athletes will be checked for the following items in the marshaling area:
Appropriate bib numbers and footwear
Bags will be checked for cassette recorders, walkmans, radios, ipods and other portable electronic devices as they are not allowed in the competition area.