2021 REGISTRATION
COVID-19
The Tely 10 Mile Road Race is organized by the Newfoundland and Labrador Athletics Association (NLAA), sport governing body in the Province of Newfoundland and Labrador for the sport of Athletics. Public Health has approved the NLAA 'Return to Athletics Plan', which includes the Tely 10.
Participants are asked to maintain physical distance from others. Where physical distancing is challenged, participants are encouraged to wear a non-medical mask (NMM).
Travelling to Newfoundland and Labrador
All travellers coming to Newfoundland and Labrador, including Newfoundland and Labrador residents, are required to fill out a travel form found here. The travel form can be completed up to 30 days prior to the travel date. Please submit proof of your COVID-19 vaccination by uploading it to your form. If you are over 12 and not vaccinated against COVID-19, you will be required to self-isolate upon entry into the province. If you travelled from within the Atlantic Provinces and are an Atlantic Canadian resident, you will need to complete the travel form but you will not need to complete the vaccination section.
---
Stay up to date with public health guidelines from Government of Canada and Government of Newfoundland and Labrador.
Please scroll down the page and click on Register Now button!
SaltWire.com digital membership
Thank you for participating in the 2021 Tely 10. As title sponsor, The Telegram would like to offer you the opportunity to purchase a SaltWire.com unlimited digital membership for just $1 week for the next 2 years. This is a limited-time offer available to Tely 10 participants. You can sign-up for this offer on the registration confirmation page!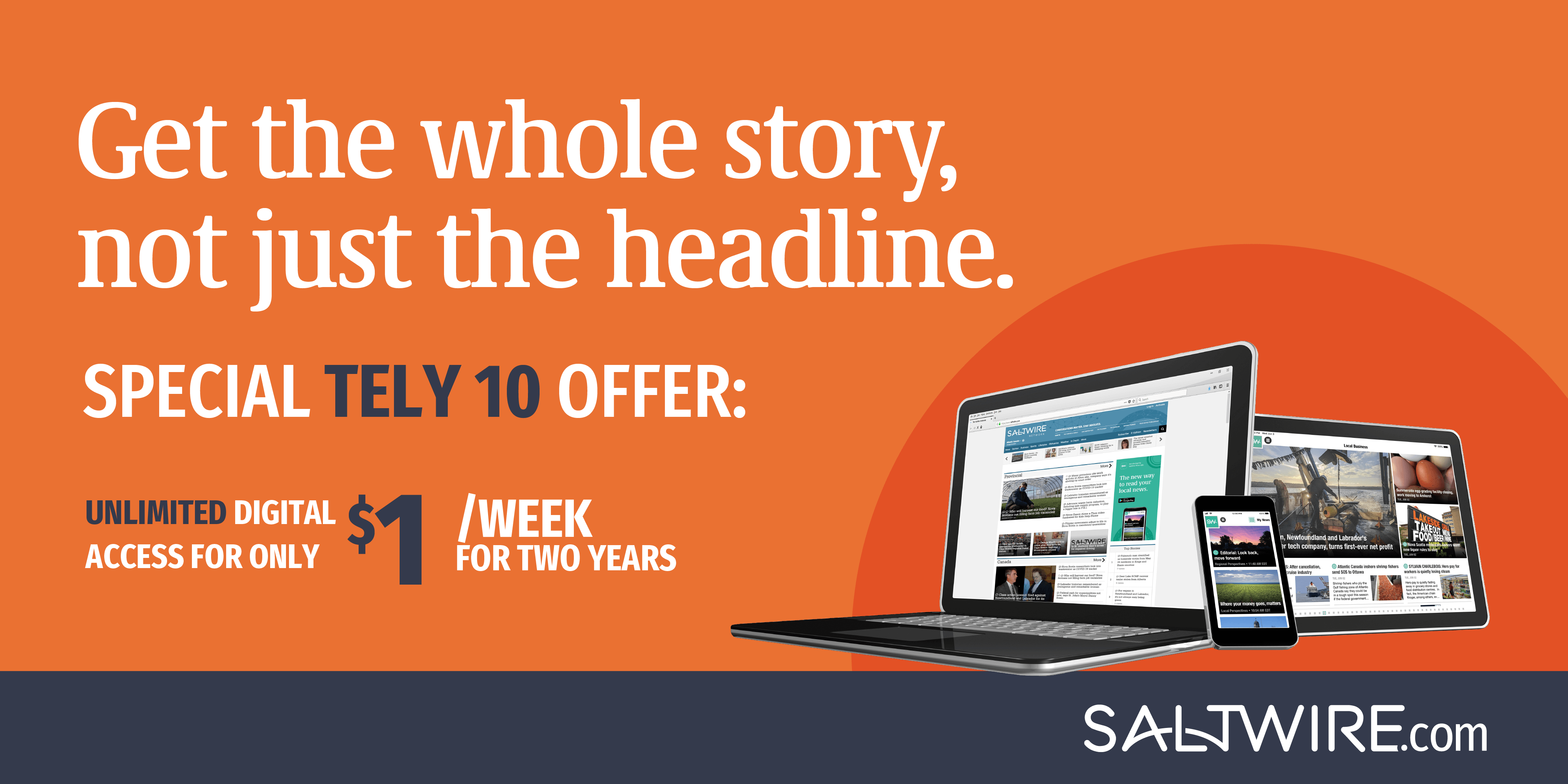 To ensure that important communication from the 2021 Tely 10 organizers does not end up in the spam folder, please add tely10@nlaa.ca and info@trackie.com to your contact list.
New in 2021
Tely 10 is capped at 2500 entries!
Current Tely 10 entry count: 2,161.
Minimum Age Limit
Age 15 as of December 31, 2021 (born in 2006).
Bus to Start Line Tickets
To limit potential exposure to COVID-19, Bus-to-Start Tickets will only be available for purchase online. The bus pass option is available at the bottom of the registration page.
I missed purchasing a bus pass during the registration.
Locate your confirmation email and click the Edit/Modify button on the bottom. Following the link will bring you back to your registration form, where you can then select the bus pass for the location you want and pay for it with your credit card. Just so you know, Bus Passes will only be available for online purchase until 11:59 PM, Monday, October 18, 2021.
Entry Fees and Registration Deadlines
Early Bird
$60.00 until 11:59 pm, Monday, October 4
T-shirt size and style selection guaranteed.
Regular
$75.00 from October 5 to 11:59 pm, Monday, October 18
T-Shirt size selection option no longer available
T-Shirt size and style (women's/men's) will be randomly assigned.
HST & service fee will be added to all transactions
Charge For This Transaction Will Appear As
Tely 10 Registration
On Your Credit Card Statement; Canadian Funds only.
Entry fee includes a Tely 10 souvenir T-shirt.
---
Refund Deadlines And Fees
Team Declaration
Team Declaration will open on Wednesday, October 20 through Thursday, October 28.
Time Limit & Traffic
The Finish Line will close at 11:30 a.m. Roads will reopen to traffic earlier.
After 10:30 a.m. Tely 10 walkers must use sidewalks along the course and obey all traffic rules.
Tely 10 participants are reminded that the race uses public roads that are not entirely closed to all vehicular traffic. Race vehicles, local residents, and emergency vehicles may still be on the road.
Finishing Medals
All finishers receive a custom Tely 10 finishing medal!
Race Day Photos
Marathon-Photos.com is the official photographer for the Tely 10 Mile Road Race.
Purchase options
☑ Bus pass to Start Line ($6.00 / $10.00 (cash) in-person, sold only during race kit pickup times)
☑ iTAB ($10)
Make it a race to remember by personalizing your medal with your name and finish time. Collect your medal at the finish line and your iTAB will arrive in the mail 2 to 3 weeks after the race. The iTAB fits neatly and securely onto your medals ribbon and is a perfect way to celebrate and share your achievements.

NLAA membership Discount
NLAA Competitive members with active membership can claim $5 discount by entering valid membership number at the time of registration; the discount is applied automatically. Please note that if you forget to enter your membership number during the registration process, we will not be able to give you credit or refund after you complete your registration.
Registration Confirmation
It is the responsibility of each participant to confirm the receipt of his/her registration.
Participants that have provided us with an e-mail address during the registration process will receive an e-mail confirmation via Trackie Group Services.
Race number assignment:
Race numbers will be automatically assigned at the end of the registration period, Monday, October 18, 2021. Bib numbers will be assigned based on registration order.
* If you cannot find your name, try entering your first or last name only, without a city.