Community Food Sharing Association of NL and R.E.A.L. Program
July 14th, 2016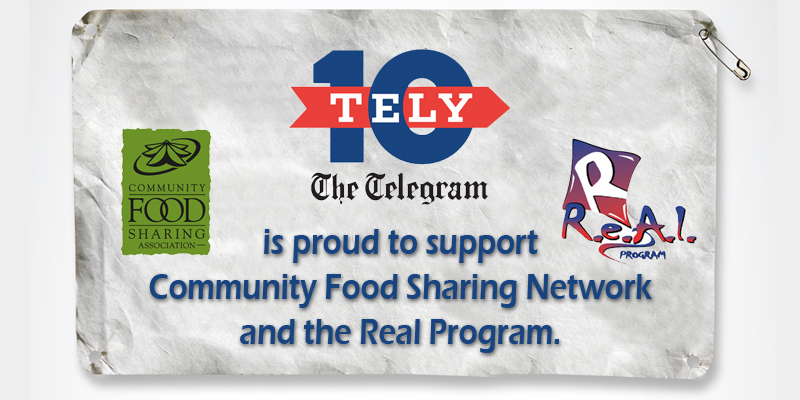 The NLAA/Tely 10 is pleased to support the Community Food Sharing Association of NL and R.E.A.L. Program (Recreation Experiences and Leisure) / Canadian Tire Jumpstart.
Please consider donating your gently used running shoes. Taking Strides (Volunteer Sneaker Collection Organization) will be collecting sneakers by during the Tely 10 race kit pickup times at the Curling Club.
Non-Perishable Food items and bins for gently used running shoes will be set up during the race kit up at The RE/MAX Centre (St. John's Curling Club). Donations will be accepted:
Thu, July 21st - 7:00 p.m. to 8:30 p.m.
Fri, July 22nd - 11:00 a.m. to 2:00 p.m. and 4:00 p.m. to 7:00 p.m.
Sat, July 23rd - 2:00 p.m. to 5:00 p.m.
NLAA is asking race participants to consider bringing non-perishable food items or loonie/toonies to donate when picking up race kit between Thursday and Saturday.
Need ideas for non-perishable items, check out list below for most demanded items by food banks:
Milk (canned or powdered)
Beans (tin)
Cereal
Peanut butter
Jam
Cheese spread
Meat (canned turkey, chicken, tuna, etc.)
Canned Fruit
Canned Vegetables
Canned soups and stews
Canned pasta (spaghetti, ravioli, etc.)
Macaroni & cheese
Dry pasta and pasta sauce
Juice
Flour
Sugar
Coffee
Tea
Hot chocolate
Thank for your support!
Newfoundland and Labrador Athletics Association